.01
ORGANIZATIONAL CONSULTING EMPOWERS
INNOVATION DEVELOPMENT and service design
Ich berate und unterstütze Unternehmen als Innovations- und Changeberaterin. Mein Ansatz basiert auf dem kundenzentrierten Service Design Innovationsprozess.
Auf meiner "Business-Journey" haben mich mein unternehmerischer Hintergrund (Gründung eines Start-ups im Alter von 24 Jahren, dessen erfolgreicher Verkauf mit 32 Jahren), meine Wurzeln im Ingenieurswesen (Dipl. Architektin) und in den Geisteswissenschaften (Psychologiestudium) geprägt. Als erste deutsche Service Design Master Trainerin (zertifiziert vom Service Design Network) vermittle ich Studenten an diversen Hochschulen und Unternehmensmitarbeitern in Seminaren den wirkungsvollen Service Design Ansatz. Die Synergie aus Wissenschaft und Praxis bereichert mein tägliches Wirken. Seit nunmehr 17 Jahren begleite ich Organisationen bei der Entwicklung und Umsetzung von ganzheitlichen und marktfähigen Kundenerlebnissen über analoge und digitale "Touchpoints" (Kunden-Berührungspunkte) hinweg und unterstütze sie bei den Herausforderungen des digitalen Wandels. Mein Schwerpunkt liegt dabei auf kundenzentrierter, agiler Innovation ("User driven innovation"), Service Design Strategie bis hin zur Implementierung und der damit verbundenen systemischen Organisationsberatung. Im Rahmen meiner Doktorarbeit habe ich einen agilen Innovationskompass und das KUER Implementierungsmodell entwickelt, welches Unternehmen dabei unterstützt, entwickelte Innovationen auch nachhaltig in ihre Organisationsstrukturen einbetten zu können. Nur so kann Innovation schnell und effektiv ihre relevanten Kunden und Zielmärkte erreichen und erfolgreich sein.
Dr. Tina Weisser
ORGANIZATIONAL CONSULTING EMPOWERS INNOVATION DEVELOPMENT
I support and consult companies as an innovation and organizational consultant. My approach is based on the customer-centric service design innovation process.
Travelling my "Business Journey," I was shaped by my entrepreneurial background (founding a start-up company at age 24, successfully selling it at age 32), my roots in engineering (graduate architect) and social sciences (psychology). As the first German service design master trainer (certified by the Service Design Network), I teach the powerful service design approach in seminars to students at various universities and corporate employees. The synergy between science and practical experience enriches my daily work. For the past 17 years, I have been accompanying organizations in the development and implementation of competitive and holistic user experiences across analog and digital touchpoints and supporting them in the challenges that come with the digital transformation. My focus is on customer-centric innovation ("user-driven innovation"), service design strategy up to implementation and the accompanying systemic organizational consulting. As part of my doctoral thesis, I have developed my own service design implementation model, which helps companies to embed innovations into their organizational structures in a sustained manner. Only then can innovation quickly and effectively reach its relevant users, target markets and be successful.
#1 MARKET-READY INNOVATIONS DEVELOPMENT
Mit dem Service Design Thinking Prozess und seinen vielfältigen Methoden u.a. aus dem Silicon Valley werden systematisch Innovationen unter Einbeziehung der Nutzer,- Unternehmens- und wirtschaftlichen Perspektive entwickelt. Der Prozess ist iterativ und basiert auf agilen Prinzipien. Nur die Lösung relevanter Probleme führt zur Erfüllung von Nutzerbedürfnissen und zufriedenen Kunden.
The Service Design Thinking process and its various methods, including those from Silicon Valley, can be used to systematically develop innovations combining the user, organizational and business perspectives. The process is iterative and based on agile principles. Only the solution of relevant problems leads to the fulfillment of real user needs and satisfied customers.
#1 Benefits: Mit relevanten nutzerzentrierten Innovationen - "user driven innovation" - nachhaltigen Unternehmenserfolg und Stärkung der Wettbewerbsfähigkeit erreichen.
Achieve sustainable corporate success and strengthen competitiveness with relevant user-centered innovations - "user-driven innovation".
"If I had 20 days to solve a problem, I would take 19 days to define it"
#2 CREATE A HOLISTIC "DIGI-ANALOG" USER AND CUSTOMER EXPERIENCE
Eine gelungene Nutzerreise, die "Customer Journey", berücksichtigt die Orchestrierung aller Erlebnisse eines Nutzers über alle digitalen oder analogen Kundenkontaktpunkte mit dem Unternehmen hinweg. Die "User- oder Customer Journey" verbindet das emotionale und funktionale Erleben eines Services zu einem Gesamterlebnis. Sie addiert die Nutzererwartung vor dem Service/Erlebnis mit der unmittelbaren Erfahrung währenddessen und der Zufriedenheit danach. bzw. dem Ende der Kundenbeziehung mit einem Service oder Produkt.
A successful customer journey – the "User Journey" – takes into account the orchestration of all user experiences across digital and analog customer contact points with the company. The "User Journey" combines the emotional and functional experience of a service into an overall experience. It adds user expectation before the service/experience with the immediate experience during that time and the satisfaction thereafter, or the end of the customer relationship with a service or product.
#2 Benefits: Die Kundenbeziehung wird etabliert und verbessert, die Loyalität der Nutzer erhöht und die Abbruchrate bei der Nutzung verringert.
The customer relationship is established and improved, the loyalty of the users increases and the cancellation rate is reduced.
"In an increasingly competitive marketplace, customer experience has become the great differentiator""
#3 INTEGRATE essential DIAGNOSTICS INTO THE PROCESS
Wenn bestehende Unternehmen bzw. Organisationen zusätzlich zu ihren Produkten Services in ihr Leistungsportfolio aufnehmen, müssen dafür Anpassungen vorgenommen werden, die viele Unternehmensbereiche betreffen. Daher sind neben der Erforschung der Bedürfnisse und des Verhaltens von externen Nutzern (Nutzerdiagnostik/User Research), auch ein Verständnis für interne Prozesse, Praktiken von Mitarbeitern, Kultur, Vision und der Unternehmenskontext essentiell (Organisationsdiagnostik). Ebenso müssen alle relevanten Marktzahlen, die technologische Entwicklung, Trends und wirtschaftliche Parameter (Businessdiagnostik) in den Prozess mit einbezogen werden.
If existing companies or organizations add services to their portfolio in addition to their products, adjustments must be made that affect many business divisions. Therefore, in addition to investigating the needs and behavior of external users (user research), an understanding of internal processes, employee practices, culture, vision and the business context (organizational diagnostics) is essential. Likewise, all relevant market figures, technological development, trends and economic parameters (business diagnostics) must also be included in the process.
#3 Benefits: Frühzeitige Risiken, Barrieren und relevante Treiber erkennen. Potentiale in den Innovationsprozess effektiv und wirksam integrieren. Wirkungszusammenhänge aufdecken, um ungewollte negative Konsequenzen vermeiden zu können, die den Innovationsprozess verlangsamen oder zum Stillstand bringen.
Identifying risks, barriers and relevant drivers at an early stage. Effective integration of potentials into the innovation process. Uncover interdependencies to avoid unwanted negative consequences that may slow down or stop the innovation process.
"Liquid Expectations. Customers expect the
same level and quality of
service regardless of the
channel, medium or industry"
(fjord/Accenture interactive)
#4 THREE-DIMENSIONAL VALUE CANON: USERS, EMPLOYEES AND ECONOMIC FACTS
Der Beweis bzw. die Prognose, dass das entwickelte Konzept/Lösungen auf dem Markt wirtschaftlich, aus Nutzersicht relevant und für die Organisation in Hinblick auf Fähigkeiten und Rahmenbedingungen im anvisierten Zeitfenster erfolgreich sein kann, muss im Prozess immer wieder erbracht werden.
The proof or prediction that the concept/solutions developed can be economically viable on the market, relevant from the user's point of view and can be successful for the organization with regards to capabilities and underlying conditions in the targeted time slot must repeatedly be provided in the process.
#4 Benefits: Werte für Nutzer, Mitarbeiter und das Unternehmen identifizieren, kreieren und sicherstellen.
Identify, create, and safeguard values for users, employees and the company.
"Fail fast, fail early BUt Learn quickly"
"42% of startups fail due to no market need"
#5 MOTIVATE EMPLOYEES THROUGH CO-CREATION: ENABLE SENSEMAKING
Neues in bestehende Organisationen zu integrieren erzeugte schon immer Ängste und Widerstände. Umso essentieller ist es deshalb, Mitarbeiter bzw. relevante Stakeholder zu motivieren und durch partizipative "co-kreative" Arbeitsmethoden in den Innovationsprozess zu integrieren. Gefundene Probleme und Lösungen werden durch Visualisierungen und Prototypen anfassbar gemacht und anschlussfähig gestaltet, damit der Sinn erkannt und von den Stakeholdern angenommen werden kann. Ebenso ist das Training von Prozessen, die Vermittlung von Methoden-Know-how und das kultivieren eines nutzerzentrierten "human-centred Mindsets" bzw. einer Innovationskultur für interne Mitarbeiter eine große Unterstützung.
Integrating new ideas into existing organizations has always caused fears and resistance. It is therefore essential to motivate employees and relevant stakeholders and incorporate them into the innovation process through participative "co-creative" working methods very early on. Visualizations and prototypes are used to make problems and solutions that have been discovered tangible and accessible so that the meaning can be recognized and accepted by stakeholders. The training of processes, the transfer of methodological know-how and the cultivation of a human-centered mindset and an innovation culture for internal employees is also great support.
#5 Benefits: Organisationales Lernen ermöglichen, Veränderungsenergie - und Fähigkeit durch greifbare Prototypen erhöhen. Widerstände minimieren und die Innovationskraft stärken. Unternehmenskultur für den digitalen Wandel schaffen.
Enabling organizational learning, increasing change energy and ability through tangible prototypes. Minimizing resistance and strengthen innovation. Creating a corporate culture for digital transformation.
"SensEmaking for employees through tangible ideas and concepts"
(inspired by GK vanPatter/humantific)
#6 THINKING ABOUT IMPLEMENTATION FROM THE START
Schon zu Beginn eines Innovationsprozesses muss die spätere Umsetzbarkeit der Konzepte mit bedacht werden. Unternehmen und Mitarbeiter müssen befähigt und vorbereitet werden, damit die Innovationen anschlussfähig sind und in den Unternehmensalltag überführt werden können. Mein Implementierungmodell KUER (siehe Toolkit) zeigt 24 Faktoren auf, die eine Implementierung begünstigen und ermöglichen.
Right from the start of an innovation process, the succeeding realizability of the concepts must be taken into consideration. Companies and employees must be qualified and prepared for innovation to be integrated into the company's everyday life. The KUER implementation model (see toolkit) shows 24 factors that support and facilitate implementation.
#6 Benefit: Erfolgreiche Implementierung von Innovationsprojekten ermöglichen.
Enable successful implementation of innovation projects.
"We also have a real rupture between concept and implementation."
(Customer Insights Manager, Studie KUER)
.03
Service DESIGN THINKINg,
implementation & innovation trainings & talks
based on Silicon Valley Innovation methods. Open trainings and customised inhouse-trainings.
GET a Service Design CERTIFICATE BASIC or advanced
awarded by the international Service Design Network
In-house Training starting from 2 days.
"A Service design training will enable participants to integrate the service design process skills within their own work routines. It is not just about learning new methods and tools, it is all about embracing a human-centred mindset and being able to face challenges that arise with the digital transformation."
Service Design BASIC (Process, Methods) & Service Design ADVANCED (Organizational Change, Innovation Management)
Service Design BASIC Workshop
Termin: 10. Oktober 2019 10:30-17:00 (Language german)
SERVICE DESIGN certificate
Service Design & Organisational Change
Service Design Implementation - DO & DELIVER -
In Cooperation WITH the Service Design Network & Prof. Birgit Mager
Cologne, Service Design Network Space, Loft 33
24.10 Cologne (Language English)
22.11 Munich (Language English)
How can it be ensured that complex service design concepts can be successfully implemented with clients? The workshop will approach the topic of implementation from different directions. Current trends in research, practice and general implementation success factors are presented, discussed and reflected on the basis of own projects. //

Wie kann sicher gestellt werden, dass komplexe Service Design Konzepte mit Kunden erfolgreich umgesetzt werden können? Der Workshop wird sich dem Thema Implementierung aus verschiedenen Richtungen nähern. So werden aktuelle Trends in Forschung und Praxis aufgezeigt, generelle Implementierungs-Erfolgsfaktoren vorgestellt, gemeinsam diskutiert und anhand von eigenen Projekten reflektiert. //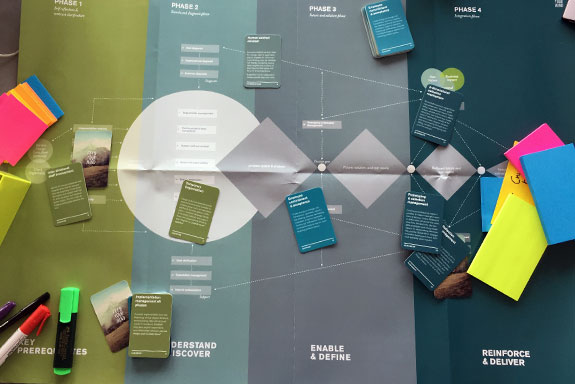 MasterCLASS Employee Experience
Service for HR
2 Day Course in cooperation with EMERGIZE in Munich
Termin: 5. und 6.11.2019 in München (Language German)
.04
Service Design & innovation Toolkits,
MODEl KUER & Innovation management compass
ERFOLGREICH SERVICE DESIGN ImplementiEren
ERFOLGREICH SERVICE DESIGN Implementieren:
24 Erfolgsfaktoren BEI agilen
und nutzerzentrierten Innovationen.
Das systemische Service Design Implementierungsmodel KUER.
USer Research Canvas
Darstellung aller relevanten Nutzerforschungsergebnisse auf einem Canvas - dem User Research Canvas. Sie dürfen den Canvas gerne für Ihre eigenen Zwecke verwenden, auch in einem kommerziellen Kontext, auch im Wettbewerb zu uns, solange Sie die Bezugsquelle www.feedyourmind.eu / Dr. Tina Weisser nennen und es zu gleichen Bedingungen weitergeben.
// Presentation of all relevant user research results on a canvas. You are welcome to use the canvas for your own purposes, including in a commercial context, including in competition with us, as long as you name the source of supply www.feedyourmind.eu / Dr. Tina Weisser and share it on equal terms.
ImplementATION Model KUER
Im Rahmen meiner Doktorarbeit bei Prof. Birgit Mager und Prof. Dr. Jonas Wolfgang habe ich ein prozessuals Implementierungsmodell entwickelt. Es stellt 24 Erfolgsfaktoren bei der Implementierung von komplexen Produkt und Service Design-Systemen in ihrer Relation und Wirkungsweise dar. // As part of my doctoral thesis with Prof. Birgit Mager and Prof. Dr. Jonas Wolfgang, I developed a process-related innovation implementation model. It presents 24 success factors for the implementation of complex product and service design systems.
Service Design Implementation
Service DEsign Implementation INFLUENCING FACtors
24 influencing and success factors (Pdf)
Service Design Implementation
A systemic approach to successfully implementing service design projects
24 success factors supporting the implementation of product and service design systems within organizations
Implementation game / toolkit
"Service Design is a team sport": Zur gemeinsamen Reflexion und spielerischem Durchspielen von klassischen Barrieren und Einflussfaktoren, die bei der Umsetzung von nutzerzentrierten Innovationen eine Rolle spielen. Ende 2019 erhältlich. // For joint reflection and playful playing through of classical barriers and influencing factors. Available at end-2019.
Contact
Ich freue mich über AnfrageN - anmerkungEN - Inspiration
I am looking forward to enquiries - notes - inspirations