.01
organizational consulting empowers Innovation development
I support and consult companies as an innovation and organisational consultant. My approach is based on the customer-centric service design innovation process.
Travelling my "Business Journey," I was shaped by my entrepreneurial background (founding a start-up company at age 24, successfully selling it at age 32), my roots in engineering (graduate architect) and social sciences (psychology). As the first German service design master trainer (certified by the Service Design Network), I teach the powerful service design approach in seminars to students at various universities and corporate employees. The synergy between science and practical experience enriches my daily work. For the past 17 years, I have been accompanying organizations in the development and implementation of competitive and holistic user experiences across analog and digital touchpoints and supporting them in the challenges that come with the digital transformation. My focus is on customer-centric innovation ("user-driven innovation"), service design strategy up to implementation and the accompanying systemic organizational consulting. As part of my doctoral thesis, I have developed my own service design implementation model, which helps companies to embed innovations into their organizational structures in a sustained manner. Only then can innovation quickly and effectively reach its relevant users, target markets and be successful.
#1
MARKET-READY INNOVATIONS DEVELOPMENT
The Service Design Thinking Process and its various methods, including those from Silicon Valley, can be used to systematically develop innovations combining the user, organizational and business perspectives. The process is iterative and based on agile principles. Only the solution of relevant problems leads to the fulfillment of real user needs and satisfied customers.
#1 Benefits: Achieve sustainable corporate success and strengthen competitiveness with relevant user-centered innovations - "user-driven innovation".
""If I had 20 days to solve a problem, I would take 19 days to define it"
#2
CREATE A HOLISTIC "DIGI-ANALOG" USER AND CUSTOMER EXPERIENCE
A successful customer journey – the "User Journey" – takes into account the orchestration of all user experiences across digital and analog customer contact points with the company. The "User Journey" combines the emotional and functional experience of a service into an overall experience. It adds user expectation before the service/experience with the immediate experience during that time and the satisfaction thereafter, or the end of the customer relationship with a service or product.
#2 Benefits: The customer relationship is established and improved, the loyalty of the users increases and the cancellation rate is reduced.
"In an increasingly competitive marketplace, customer experience has become the great differentiator""
#3
INTEGRATE essential DIAGNOSTICS INTO THE PROCESS
If existing companies or organizations add services to their portfolio in addition to their products, adjustments must be made that affect many business divisions. Therefore, in addition to investigating the needs and behavior of external users (user research), an understanding of internal processes, employee practices, culture, vision and the business context (organizational diagnostics) is essential. Likewise, all relevant market figures, technological development, trends and economic parameters (business diagnostics) must also be included in the process.
#3 Benefits: Identifying risks, barriers and relevant drivers at an early stage. Effective integration of potentials into the innovation process. Uncover interdependencies to avoid unwanted negative consequences that may slow down or stop the innovation process.
"Liquid Expectations. Customers expect the
same level and quality of
service regardless of the
channel, medium or industry"
(fjord/Accenture interactive)
#4
THREE-DIMENSIONAL VALUE CANON: USERS, EMPLOYEES AND ECONOMIC FACTS
The proof or prediction that the concept/solutions developed can be economically viable on the market, relevant from the user's point of view and can be successful for the organization with regards to capabilities and underlying conditions in the targeted time slot must repeatedly be provided in the process.
#4 Benefits: Identify, create, and safeguard values for users, employees and the company.
 
"Fail fast, fail early BUt Learn quickly"
/// "42% of startups fail due to no market need"
#5
MOTIVATE employees through CO-CREATION

: enable sensemaking

Integrating new ideas into existing organizations has always caused fears and resistance. It is therefore essential to motivate employees and relevant stakeholders and incorporate them into the innovation process through participative "co-creative" working methods very early on. Visualizations and prototypes are used to make problems and solutions that have been discovered tangible and accessible so that the meaning can be recognized and accepted by stakeholders. The training of processes, the transfer of methodological know-how and the cultivation of a human-centered mindset and an innovation culture for internal employees is also great support.
#5 Benefits: Enabling organizational learning, increasing change energy and ability through tangible prototypes. Minimizing resistance and strengthen innovation. Creating a corporate culture for digital transformation.
"SensEmaking for employees through tangible ideas and concepts"
(based on GK vanPatter/humantific)
#6
THINKING about IMPLEMENTATION FROM THE START
Right from the start of an innovation process, the succeeding realizability of the concepts must be taken into consideration. Companies and employees must be qualified and prepared for innovation to be integrated into the company's everyday life. The KUER implementation model (see toolkit) shows 24 factors that support and facilitate implementation.
#6 Benefit: Enable successful implementation of innovation projects.
"We have a real gap between concept and implementation."
(Customer Insights Manager, Study KUER)
.03
Service DESIGN THINKINg Seminare
Individual in-house seminars, contents or service design / design thinking trainings are available on request.
Service Design TRainings
in cooperation with the XDI Institute
4. - 6. April 2018 Amsterdam (Language English)
2.- 4. Juli 2018 Berlin (English)
Service Design COURSE
in cooperation with c+plus Vienna and Prof. Birgit Mager @virtual identity MUNICH
Termin 1: 12. - 13. April 2018
Termin 2: 18. - 19. Mai 2018
Termin 3: 14.-15. Juni 2018
Service Design Implementation
In cooperation with the Service Design Network, Prof. Birgit Mager
Köln, Service Design Network Space
Autumn 2018, Date will follow shortly
USer Research Canvas
Display of all relevant user research results on a canvas. Free template (pdf) on request.
Implementation Model KUER
As part of my doctoral thesis with Prof. Birgit Mager and Prof. Dr. Jonas Wolfgang, I have developed a processual implementation model. It presents 24 influencing and success factors for the implementation of complex product and service design systems in relation to their impact and relationship. Available soon!
Service Design Implementation
Service DEsign Implementation INFLUENCing FACTORS
24 Factors of influence and success (Pdf). Available soon!
Service Design Implementation
Successful service design implementation
Title: "Successful implementation of complex product and service design systems (PSS) in organizations. Service Design as a tool for systemic organizational development." E-book mid/end of 2018.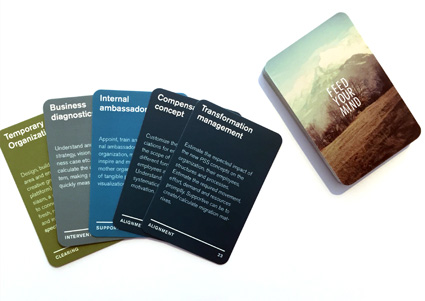 Implementation Game & toolkit
For joint reflection and a playful approach to classical barriers and influencing factors working on Service Design implementation challenges. Available in mid-2018.
CONTACT
I am looking forward to your inquiry
Imprint
Tina Weisser
Jahnstr. 40
80469 Munich
Germany

t@feedyourmind.eu
 
Information according to § 5 TMG.
Liability for contents
As a service provider, we are responsible for our own content on these pages according to § 7 Abs. 1 TMG (German Telemedia Act) according to the general laws. According to §§ 8 to 10 TMG, however, we are not obliged as a service provider to monitor transmitted or stored third-party information or to investigate circumstances that indicate illegal activity.
Obligations to remove or block the use of information in accordance with general laws remain unaffected by this. However, liability in this regard is only possible from the time of knowledge of a concrete infringement. If we become aware of any such violations of the law, we will remove these contents immediately.
Liability for Links
Our offer contains links to external websites of third parties, on whose contents we have no influence. Therefore, we cannot assume any liability for these external contents. The respective provider or operator of the pages is always responsible for the contents of the linked pages. The linked pages were checked for possible legal infringements at the time of linking. Illegal contents were not recognizable at the time of linking.
However, it is unreasonable to expect a permanent control of the contents of the linked pages without concrete evidence of a violation of the law. If we become aware of any legal infringements, we will remove such links immediately.
copyright
The contents and works on these pages created by the site operator are subject to German copyright law. The duplication, processing, distribution and any kind of exploitation outside the limits of copyright law require the written consent of the respective author or creator. Downloads and copies of these pages are only permitted for private, non-commercial use.
Insofar as the content on this site has not been created by the operator, the copyrights of third parties are respected. In particular, third party contents are marked as such. Should you nevertheless become aware of a copyright infringement, please inform us accordingly. If we become aware of any infringements of the law, we will remove such contents immediately.
Data protection declaration
protection of privacy
The operators of these pages take the protection of your personal data very seriously. We treat your personal data confidentially and in accordance with the statutory data protection regulations and this data protection declaration.
The use of our website is generally possible without providing personal data. Insofar as personal data (e. g. name, address or e-mail addresses) are collected on our pages, this is always done, as far as possible, on a voluntary basis. These data will not be passed on to third parties without your express consent.
We would like to point out that data transmission on the Internet (e. g. when communicating by e-mail) may have security gaps. A complete protection of data against access by third parties is not possible.

Google Analytics
This website uses functions of the web analytics service Google Analytics. Provider is Google Inc., 1600 Amphitheatre Parkway Mountain View, CA 94043, USA.
Google Analytics uses so-called "cookies". These are text files that are stored on your computer and allow an analysis of your use of the website. The information generated by the cookie about your use of this website is usually transferred to a Google server in the USA and stored there.
For more information on how we handle user data at Google Analytics, please see the Google Privacy Policy: https://support.google.com/analytics/answer/6004245?hl=de
browser plugin
You may refuse the use of cookies by selecting the appropriate settings on your browser, however please note that if you do this you may not be able to use the full functionality of this website. You can also prevent Google from collecting the data generated by the cookie and relating to your use of the website (including your IP address) and from processing this data by Google by downloading and installing the browser plugin available under the following link: https://tools.google.com/dlpage/gaoptout?hl=de
Opposition to data collection
You can prevent Google Analytics from collecting your information by clicking on the link below. An opt-out cookie is set that prevents your data from being collected when you visit this website in the future: Google Analytics deaktivieren
IP anonymization
We use the function "Enable IP anonymization" on this website. Your IP address will, however, be used by Google within Member States of the European Union or in other signatory states to the European Economic Area Agreement.
Translated with www.DeepL.com/Translator
Die Betreiber dieser Seiten nehmen den Schutz Ihrer persönlichen Daten sehr ernst. Wir behandeln Ihre personenbezogenen Daten vertraulich und entsprechend der gesetzlichen Datenschutzvorschriften sowie dieser Datenschutzerklärung.
Die Nutzung unserer Webseite ist in der Regel ohne Angabe personenbezogener Daten möglich. Soweit auf unseren Seiten personenbezogene Daten (beispielsweise Name, Anschrift oder E-Mail-Adressen) erhoben werden, erfolgt dies, soweit möglich, stets auf freiwilliger Basis. Diese Daten werden ohne Ihre ausdrückliche Zustimmung nicht an Dritte weitergegeben.
Wir weisen darauf hin, dass die Datenübertragung im Internet (z.B. bei der Kommunikation per E-Mail) Sicherheitslücken aufweisen kann. Ein lückenloser Schutz der Daten vor dem Zugriff durch Dritte ist nicht möglich.
Source: eRecht24