.03
Service DESIGN THINKINg,
implementation & innovation trainings & talks
based on Silicon Valley Innovation methods. Open trainings and customised inhouse-trainings.
GET a Service Design CERTIFICATE BASIC or advanced
awarded by the international Service Design Network
In-house Training starting from 2 days.
"A Service design training will enable participants to integrate the service design process skills within their own work routines. It is not just about learning new methods and tools, it is all about embracing a human-centred mindset and being able to face challenges that arise with the digital transformation."
Service Design BASIC (Process, Methods) & Service Design ADVANCED (Organizational Change, Innovation Management)
Service Design BASIC Workshop
Termin: 10. Oktober 2019 10:30-17:00 (Language german)
SERVICE DESIGN certificate
Service Design & Organisational Change
Service Design Implementation - DO & DELIVER -
In Cooperation WITH the Service Design Network & Prof. Birgit Mager
Cologne, Service Design Network Space, Loft 33
24.10 Cologne (Language English)
22.11 Munich (Language English)
How can it be ensured that complex service design concepts can be successfully implemented with clients? The workshop will approach the topic of implementation from different directions. Current trends in research, practice and general implementation success factors are presented, discussed and reflected on the basis of own projects. //

Wie kann sicher gestellt werden, dass komplexe Service Design Konzepte mit Kunden erfolgreich umgesetzt werden können? Der Workshop wird sich dem Thema Implementierung aus verschiedenen Richtungen nähern. So werden aktuelle Trends in Forschung und Praxis aufgezeigt, generelle Implementierungs-Erfolgsfaktoren vorgestellt, gemeinsam diskutiert und anhand von eigenen Projekten reflektiert. //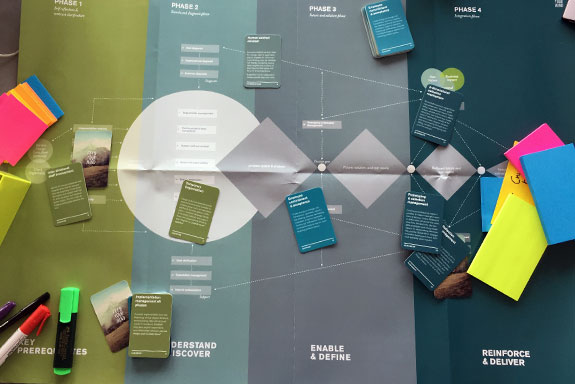 MasterCLASS Employee Experience
Service for HR
2 Day Course in cooperation with EMERGIZE in Munich
Termin: 5. und 6.11.2019 in München (Language German)